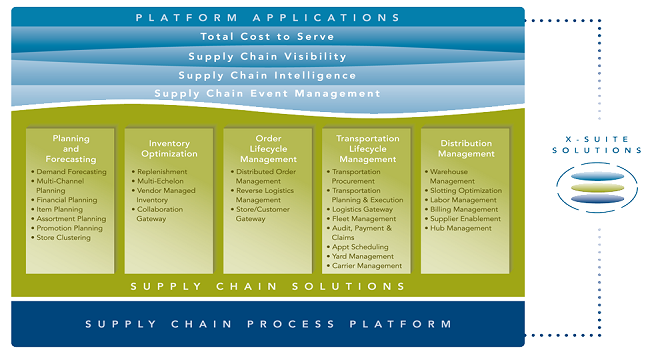 As the only pure-play technology innovator in our market, we bring unmatched focus on the innovation that is the most valuable and impactful for our customers, including a single, holistic technology architecture with three major benefits:
    1. Cross-Functional Business Solutions
    2. Total Cost of Ownership
    3. The Power of Shared Components
Cross-Functional Business Solutions
  The ability to apportion freight, labour, inventory handling and overhead costs across the supply chain to determine an item's total cost to serve (TCO) for an end customer normally requires a massive integration and harmonization effort.
Total Cost of Ownership (TCO)
  For IT executives, our platform enables TCO through consistency. You get a single set of tools to administrate security, resource management, system configuration and integration across disciplines to allow for economies of scale. The use of standard technologies, development tools and languages also ensures needed technical skills are readily available in the marketplace
The Power of Shared Components
  When an organization has multiple disparate systems, there are frequently redundant capabilities found across the enterprise. Examples include yard management, parcel shipping and inventory visibility. The consequences of duplicate systems range from the simple confusion brought on by different naming conventions to the expensive and complex data becoming out of sync, resulting in missed appointments, chargebacks and similar.
This platform-based approach enables our customers around the world to get closer to their customers and achieve real-world ROI and results such as:
  • 10-25% decrease in inventory costs
  • 15-30% labour savings
  • 1-3% decrease in distribution costs as a percentage of sales
  The Manhattan Platform provides the power to see and act in real-time or ahead of time—so that your performance is optimised every time.